Prepare for an unforgettable Halloween experience at the 14th Annual Palm Springs Air Museum Halloween-Themed Chili Cook-Off & Car Show! in California's beautiful city of Palm Springs. This highly anticipated event combines the best of mouthwatering chili and captivating classic cars, all set within a thrilling Halloween-inspired atmosphere. Mark your calendars for an extraordinary day on October 28, 2023, from 10:00 a.m. until 5:00 p.m., and get ready to indulge in a delightful celebration.
Here are what awaits you at the event:
The Chili Cook-Off: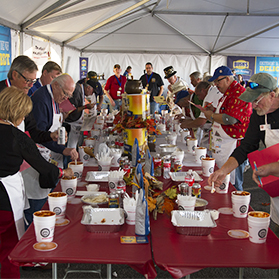 Get your taste buds primed for a chili extravaganza like no other! The Chili Cook-Off at the Palm Springs Air Museum is a show of culinary mastery by local chefs and passionate cooks who bring their unique recipes and secret ingredients to compete for top honors in a fiery competition. Also, sample a diverse range of chili creations, from traditional meaty concoctions to innovative vegetarian options bursting with captivating flavors. The judges, armed with discerning palates, will have the tricky task of determining the winners. However, attendees will also have a voice with the opportunity to cast their votes for the coveted People's Choice Award.
The Car Show:
In addition to the chili festivities, prepare to feast your eyes on a stunning exhibition of classic cars. The event will showcase a carefully curated collection of vehicles, ranging from vintage cars to retro motorcycles. The nostalgia in the air will transport you to a bygone era as you marvel at timeless designs and craftsmanship. Also, engage with passionate car owners, collectors, and restorers who will share intriguing stories and insights into these remarkable vehicles. Learn about the painstaking restoration process and the attention to detail required to preserve these automotive marvels. This is a rare opportunity to connect with fellow automobile enthusiasts and indulge in a shared passion for vintage vehicles.
Spooktacular Activities:
Embrace the Halloween spirit at the Palm Springs Air Museum with a range of Spooktacular activities. Also, expect to be immersed in a Halloween-themed atmosphere, complete with eerie decorations, creatively costumed attendees, and live entertainment that will send a shiver down your spine. Additionally, attendees can participate in a variety of interactive games and contests that are sure to get their hearts racing. These activities offer a thrilling experience for people of all ages, making the event even more exciting and memorable. Don't forget to capture memorable moments at the designated photo booths, ensuring lasting memories of this special Halloween celebration.
The 14th Annual Palm Springs Air Museum Halloween Themed Chili Cook-Off & Car Show is the ultimate Halloween destination on October 28, 2023. Delight in the tantalizing array of chili creations, explore the breathtaking collection of classic cars, and immerse yourself in a Halloween-inspired ambiance that will leave you spellbound. Mark this date on your calendar and get ready for an extraordinary day of Spooktacular fun, food, and automotive marvels.